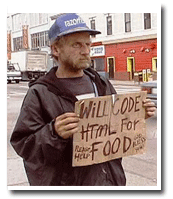 If you want to improve your skills unlike this poor soul get to Code Camp we will even supply the food for lunch. Mark your calendars for July 15.
I can't attend this one since I already have plans for the weekend that take me out of town, but if you are in Florida and want to go you should check it out.
Just incase you forgot Code Camp is FREE, and its the only place you can learn from the best out there under one roof. If you program in Visual Studio.NET you need Code Camp. If you use ASP.NET you need code camp. It doent matter if your an amature or one of the coding gods you dont wnat to miss this event.
There is a limit of 350 attendees, so make sure you register.